Subscribe to The Texas Voice
Have every new edition of The Texas Voice sent direct to your inbox
After the release of the report of the Texas House General Investigating Committee that detailed the egregious misconduct of now-former State Representative Bryan Slaton, members of the State Republican Executive Committee (SREC) had a vigorous internal debate about what, if any, statement should be released calling for Slaton's resignation and expulsion.
According to screenshots of internal SREC discussions which have been posted online, the authenticity of which The Texas Voice has confirmed, individual members of the SREC spearheaded an effort to release a public statement regarding Slaton, which was met by fierce opposition from some of the most outspoken members of the SREC as well as Republican Party of Texas Chairman Matt Rinaldi.
Late on the evening of May 7, SREC Committeeman Rolando Garcia released a statement on his social media signed by a majority of the SREC. The statement said, "The conduct of state Rep. Bryan Slaton – as documented in the Report of the House Committee on General Investigating – is wrong and totally unacceptable. We, the undersigned members of the State Republican Executive Committee, demand that Rep. Slaton resign immediately. If he does not, the House should vote to expel him."
In addition to Garcia, Committeewoman Susan Wright, Committeewoman Morgan Graham, and Committeeman Scott Bowen also played key roles in spearheading the statement.
At that time, Garcia noted that several members of the SREC could not be reached while others declined to sign on to the statement. The next day, Garcia posted two updated letters reflecting additional SREC members who signed on to the statement.
The SREC members who did not sign on to the group statement calling for Slaton's resignation and expulsion are as follows:
State Chairman- Matt Rinaldi
SD 2- Jerry Fisher
SD 2- Bruce Bishop
SD 4- Gwendolyn Withrow
SD 5- Susan Lucas
SD 8- Margaret Whitt
SD 12- Jill Glover
SD 12- David Wylie
SD 16- Susan Fountain
SD 16- Matthew Patrick
SD 21- Mike Monreal
SD 21- Toni Trevino
SD 22- Devvie Duke
SD 23- Elaine Cook
SD 23- Ed Zenner
SD 25- Naomi Narvaiz
SD 25- J. Christopher Byrd
SD 29- Robyn Cooper
SD 30- Rachel Horton
SD 31- Tisha Crow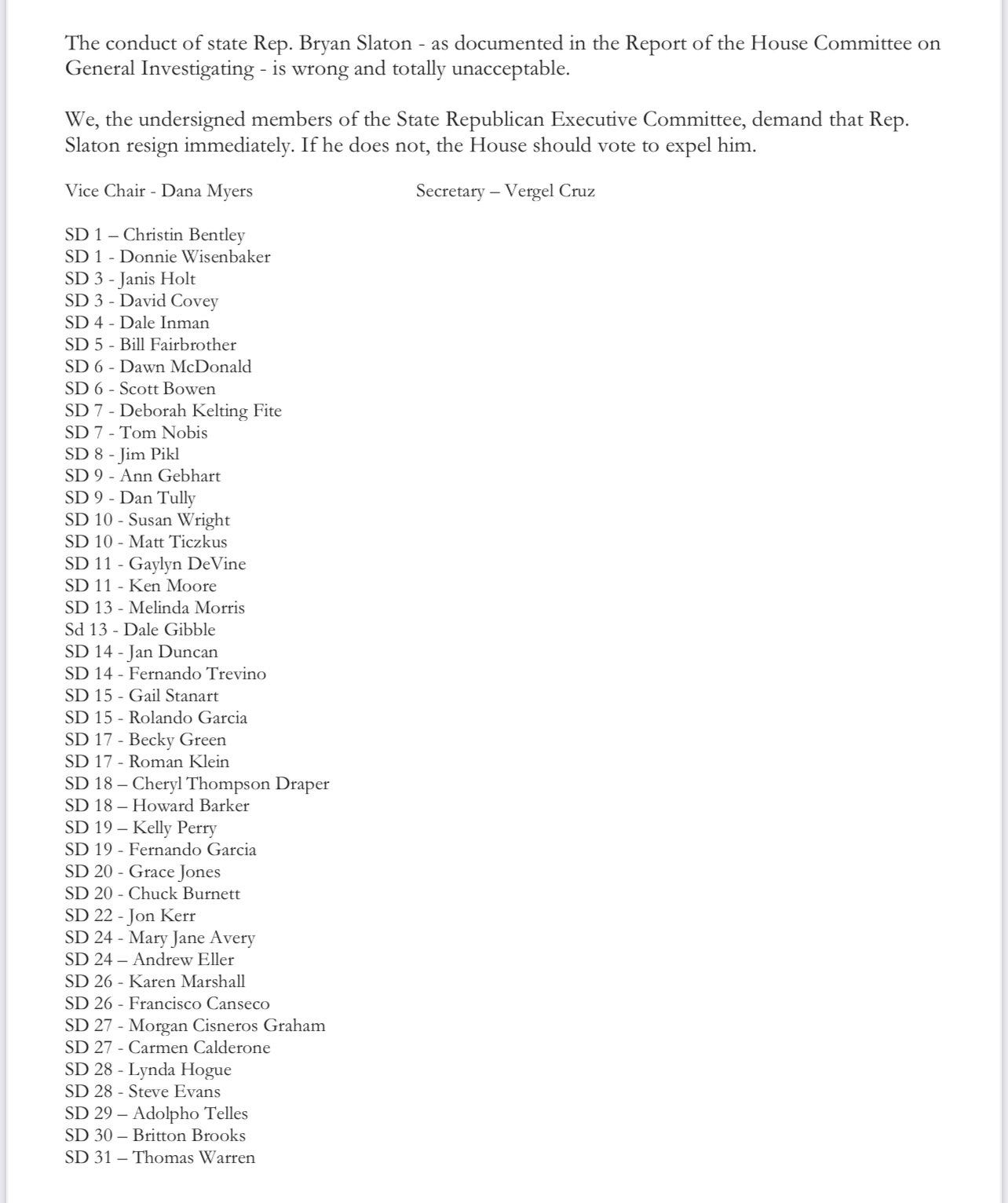 Several of the most outspoken members of the SREC are absent from the group statement that condemned Slaton's conduct. Jill Glover, who chairs the Republican Party of Texas Legislative Priorities committee, frequently sends mass e-mails to the Party's e-mail list that contains false or misleading information about the work done by Republican legislators. Glover declined to sign the group statement and expressed strong opposition to releasing such a statement in internal SREC discussions.
A few of the SREC members who argued against the release of the group statement, including Glover, eventually released individual statements after their absence from the group statement was called out by various grassroots conservative leaders on social media.
Some have also questioned whether money played a role in Rinaldi's opposition to the Party publicly condemning Slaton's conduct before his resignation. As The Texas Voice reported last week, the Republican Party of Texas received a $100,000 donation from the Defend Texas Liberty PAC and a $35,000 donation from Defend Texas Liberty's biggest donor, Midland oilman Tim Dunn, last month.
Defend Texas Liberty and Dunn were also the two largest donors to Slaton's campaign over the past two years. Defend Texas Liberty donated $153,000, and Dunn donated $50,000 to Slaton over that period. In January 2022, former State Representative Jonathan Stickland, who runs the Defend Texas Liberty PAC, posed for a photo with Slaton handing him an oversized novelty check reflecting a $100,000 donation that Defend Texas Liberty made to Slaton.