The Texas Association of Property Tax Professionals (TAPTP), a trade association representing the property tax consulting industry, has launched an aggressive campaign against property tax relief legislation that is set to be considered in the Texas House this Thursday.
HJR 1, by State Representative Morgan Meyer, would place a proposed state constitutional amendment on the November 2022 ballot to create a 5 percent annual appraisal cap for all real property in Texas. Currently, residential homesteads are subject to a 10 percent yearly appraisal cap, with all other real property subject to unlimited annual appraisal increases.
Subscribe to The Texas Voice
Have every new edition of The Texas Voice sent direct to your inbox
The Texas Association of Property Tax Professionals, whose members are in the business of protesting property tax appraisals and would stand to lose business if HJR 1 was to pass, sent text messages to voters across Texas earlier today in opposition to HJR 1. The text messages state, "The Texas House is considering a vote on House Joint Resolution 1. This measure cuts $10 billion from school budgets and will result in Texas students falling behind students in other states." The messages then include contact information for the voter's state representative and asks the recipient to urge their state representative to vote against HJR 1.
The claims made by the tax protest industry in their text messages about school funding are misleading and lack context. Last week, in approving House Bill 1 and Senate Bill 30, the Texas House approved $60.3 billion in public education funding, an increase of $5 billion.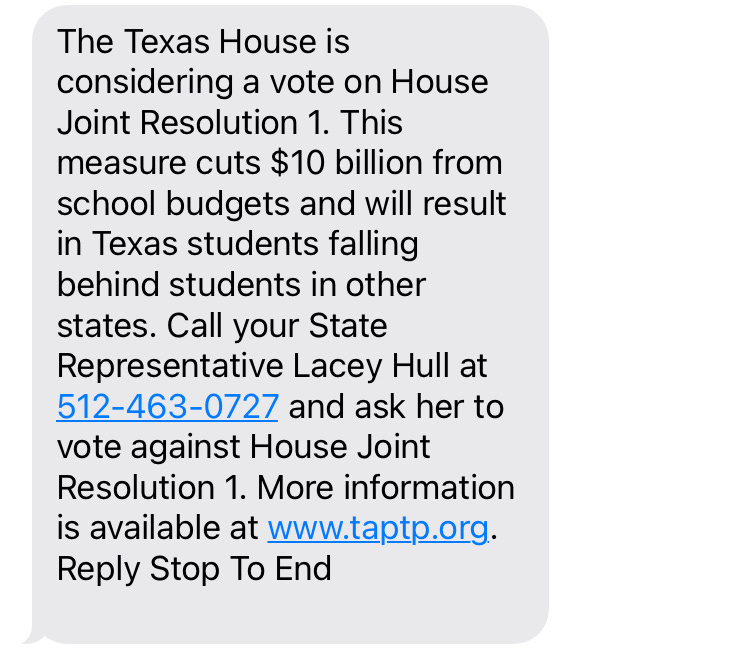 Although the Texas Senate has also prioritized property tax relief, their approach relies on an increase in the homestead exemption rather than appraisal caps. Last month, the Texas Senate passed SJR 3 to raise the homestead exemption on residential homesteads from $40,000 to $70,000. SJR 3 was referred to the Texas House Ways and Means Committee yesterday.