Randan Steinhauser, an Austin-area political consultant and former member of the State Republican Executive Committee, recently launched a campaign for Republican National Committeewoman from Texas. The incumbent Texas National Committeewoman, Toni Anne Dashiell, has announced plans to seek re-election to the position at the Republican Party of Texas state convention next year.
Steinhauser and her husband, Brendan Steinhauser, are the owners of Steinhauser Strategies, a political consulting and public relations firm. According to her campaign website, Steinhauser also serves as National Spokesperson for Young Americans for Liberty, which received a $40,000 contribution from former State Representative Jonathan Stickland's Defend Texas Liberty political action committee last month.
Subscribe to The Texas Voice
Have every new edition of The Texas Voice sent direct to your inbox
While Steinhauser's campaign website states that "the primary role of a National Committee Member is to help Republican leaders win elections on the local, state, and national levels," Steinhauser has been a vocal critic of former President Donald Trump.
Steinhauser refused to support Trump in the 2016 general election against Hillary Clinton. She wrote on Facebook about her "disdain" for Trump and ended her post by stating, "No, I will not vote for Hillary Clinton. And no, I will not vote for Donald Trump."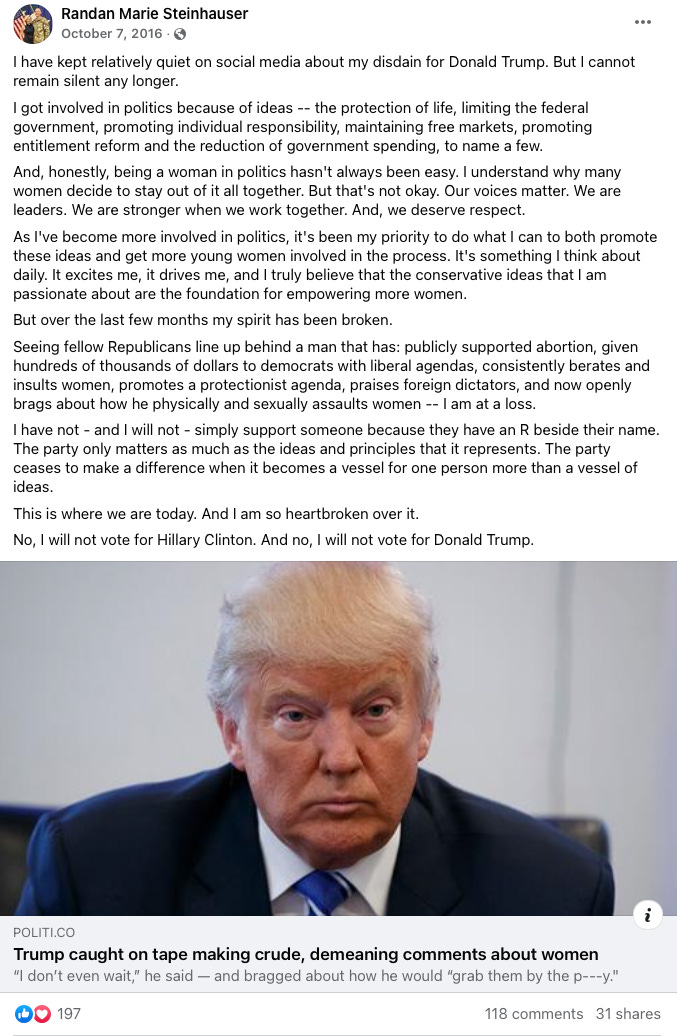 Steinhauser's antipathy towards Trump has extended beyond the 2016 and 2020 elections. In 2021, Steinhauser publicly touted the candidacy of Michael Wood, a candidate who ran an explicitly anti-Trump platform, in the special election to fill the vacancy in Congressional District 6 created upon the passing of Congressman Ron Wright. In a Facebook post, Steinhauser wrote, "Our team at Steinhauser Strategies, LLC is proud to be running the Michael Wood for Congress campaign!" and described Wood as an "**incredible**" candidate.
The Facebook post included a profile of Wood published by Politico entitled "Meet the Texas veteran who could blaze a trail for the anti-Trump GOP." Wood's campaign attracted the financial support of anti-Trump Congress members Adam Kinzinger, Liz Cheney, and Anthony Gonzalez and anti-Trump commentator Bill Kristol.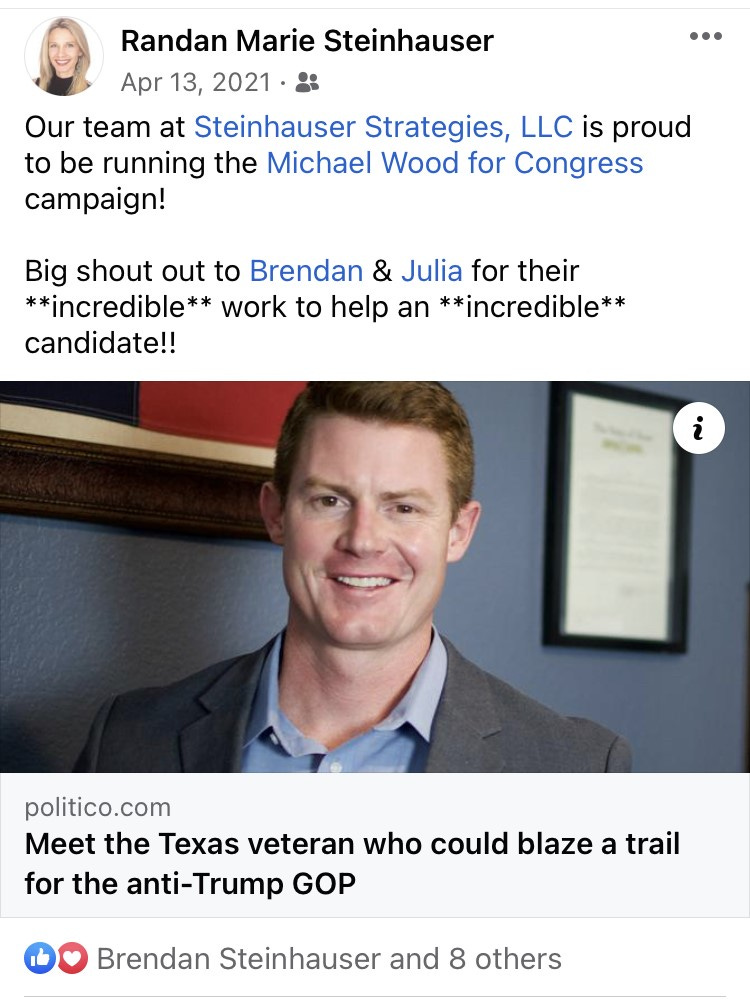 Steinhauser's firm, Steinhauser Strategies, LLC, was paid over $44,000 by Wood's campaign. One of Wood's opponents in the special election, Susan Wright, a State Republican Executive Committeewoman and widow of the late Congressman Ron Wright, was endorsed by the Republican Party of Texas in the election.
Wood received just 3.2% of the vote in the special election, coming in ninth place. Then-State Representative Jake Ellzey won the runoff election to fill Congressman Wright's vacancy.
In the 2024 Presidential race, Steinhauser has been complimentary towards Florida Governor Ron DeSantis, describing him as "the future of America!"
Much of Steinhauser's political advocacy has been in support of school choice and charter schools. In 2019, Steinhauser signed a $5,000-per-month consulting contract with Harmony Public Schools. This charter school system has come under fire by some conservatives, notably Texas Eagle Forum, due to its alleged ties to the controversial Turkish Muslim cleric Fethullah Gülen.
In 2016, then-State Representative Dan Flynn requested an investigation into Harmony Public Schools by the Texas Attorney General's office. An investigation into Harmony Public Schools by the Texas Education Agency in 2016 was dismissed.
Among those endorsing Steinhauser's campaign are several key figures associated with Defend Texas Liberty. State Representative Tony Tinderholt, who received a $100,000 campaign contribution last month, has endorsed Steinhauser. Cary Cheshire, who has worked for Jonathan Stickland's consulting firm Pale Horse Strategies and was once suspended from public activities with his then-employer Empower Texans after making vulgar comments about Governor Greg Abbott's disability, is also featured on Steinhauser's endorsement list.
True Texas Project CEO Julie McCarty has also endorsed Steinhauser. McCarty's endorsement of Steinhauser raised eyebrows among some as she has publicly stated her opposition to school choice, Steinhauser's signature issue. Although Steinhauser has bragged that she is "honored" to have McCarty's support, she has expressed opposition to other Texas Republicans who, like McCarty, have opposed school choice.
As was reported by The Texas Voice earlier this year, McCarty has stated that she did not vote for her State Representative or Governor Abbott in the 2022 General Election. McCarty's husband and fellow True Texas Project leader Fred McCarty has also disparaged President Trump, tweeting, "Would it have killed Trump to do something/anything for white voters? He didn't deliver shit. He did offer to give blacks a half a trillion dollars! That got him a nominal bump in support."
True Texas Project and its affiliated political action committee have received significant financial support from Defend Texas Liberty.
The position of Texas Republican National Committeewoman will be voted on at the Republican Party of Texas State Convention that will be held May 23-25, 2024, in San Antonio.