In a Twitter thread posted last Friday, media personality Glenn Beck targeted nine Republican members of the Texas House of Representatives as being "vulnerable to a primary challenge in 2024."
Beck tweeted, "THREAD: 24 Texas House *Republicans* voted to KILL any school choice funds in Texas. Some were endorsed in 2022 by the Texas State Teachers Association. Here's 9 that are vulnerable to a primary challenge in 2024."
Subscribe to The Texas Voice
Have every new edition of The Texas Voice sent direct to your inbox
Beck then named State Representatives Glenn Rogers, Ernest Bailes, Drew Darby, Kyle Kacal, Stan Lambert, Angelia Orr, John Raney, Gary Van Deaver, and David Spiller in subsequent tweets in his thread. All nine legislators mentioned by Beck represent predominantly rural districts. Kacal, Raney, Bailes, Van Deaver, and Rogers were unsuccessfully targeted for defeat by the Defend Texas Liberty PAC in the 2022 Republican Primary.
Defend Texas Liberty is controlled by former State Representative Jonathan Stickland, who also runs the political consulting firm Pale Horse Strategies. Defend Texas Liberty has paid Pale Horse Strategies over $800,000 since last March.
Beck's decision to single out these nine Texas House members due to a vote related to school choice raises questions about the role investors in Blaze Media and political donors may play in his political advocacy and commentary.
As reported by The Puck last month, Blaze Media conducted a round of investor funding last year that included former Secretary of Education Betsy DeVos, a prominent proponent of school choice initiatives. A statement provided by a Blaze Media spokeswoman to The Puck confirmed the DeVos investment in Blaze Media. The statement also referred to other unnamed "strategic investors" as part of Blaze Media's capital raise.
Last month, NBC News reported that the American Federation for Children, an organization founded by Betsy DeVos, had spent approximately $9 million to influence state elections in 2022, with roughly $2.5 million coming from DeVos and her husband. The Texas Federation for Children PAC, affiliated with the American Federation for Children, received $250,000 from DeVos and her husband last year.
Beck and his company, Blaze Media, also have close ties to groups that are part of Defend Texas Liberty's network of donors and organizations.
The True Texas Project, an organization whose leaders have opposed Republican nominees in the general election and have criticized the Republican Party and Donald Trump as not supporting "white voters," has been hosted by Beck at his Mercury Studios facility in Irving for various events, including meetings of their Dallas chapter. During the 2022 election cycle, the True Texas Project PAC received over 92% of its funding from Defend Texas Liberty PAC. Beck has also appeared at True Texas Projects in the past.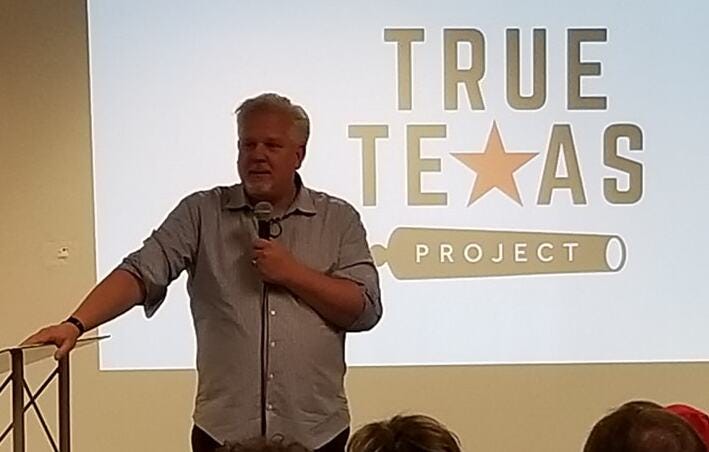 Sara Gonzales, who hosts a program for Blaze Media entitled "The News & Why It Matters," joined the team of the Texas Family Project in October to spearhead an initiative called "Defend Our Kids Texas." One of the Texas Family Project's board members, Brady Gray, is employed as Chief Executive Officer of Pale Horse Strategies.
Another Blaze Media Personality, Chad Prather, recently teamed up with an organization in the Defend Texas Liberty network. Earlier this month, Prather announced a "partnership" with Texans for Strong Borders, which received $100,000 from Defend Texas Liberty PAC in October. Cary Cheshire, who works as a senior advisor to Pale Horse Strategies, serves on Texas for Strong Borders' board of directors. Prather unsuccessfully opposed Governor Greg Abbott in the 2022 Republican Primary, earning just 3.8% of the vote.
As a candidate for Governor, Prather supported the idea of placing a referendum on the ballot for Texas to secede from the United States of America and featured Daniel Miller, the President of the pro-secession Texas Nationalist Movement, as a guest on his Blaze Media program.
Texans for Strong Borders and the Texas Family Project were featured at a recent donor conference organized by Tim Dunn, who donated over $7 million to Defend Texas Liberty. Dunn, as well as Jonathan Stickland, were also featured speakers at the meeting.
The close ties between Beck, Blaze Media, and the Defend Texas Liberty network have led some to speculate whether Tim Dunn or Farris Wilks, who has contributed over $3 million to Defend Texas Liberty and is also an investor in Ben Shapiro's Daily Wire, are also investors in Blaze Media.
The Texas Voice reached out to Blaze Media to confirm whether Dunn or Wilks are investors in the company but did not receive a response.