A complaint alleging that Texas Attorney General Ken Paxton improperly accepted free legal services from attorneys who took leaves of absence from his office was accepted by the Texas Ethics Commission last week, The Texas Voice has learned.
In a letter to Paxton from Texas Ethics Commission Assistant General Counsel Carmen Dalpiaz dated August 28, 2023, Paxton was informed that the Commission accepted jurisdiction over a sworn complaint filed against him with the Commission.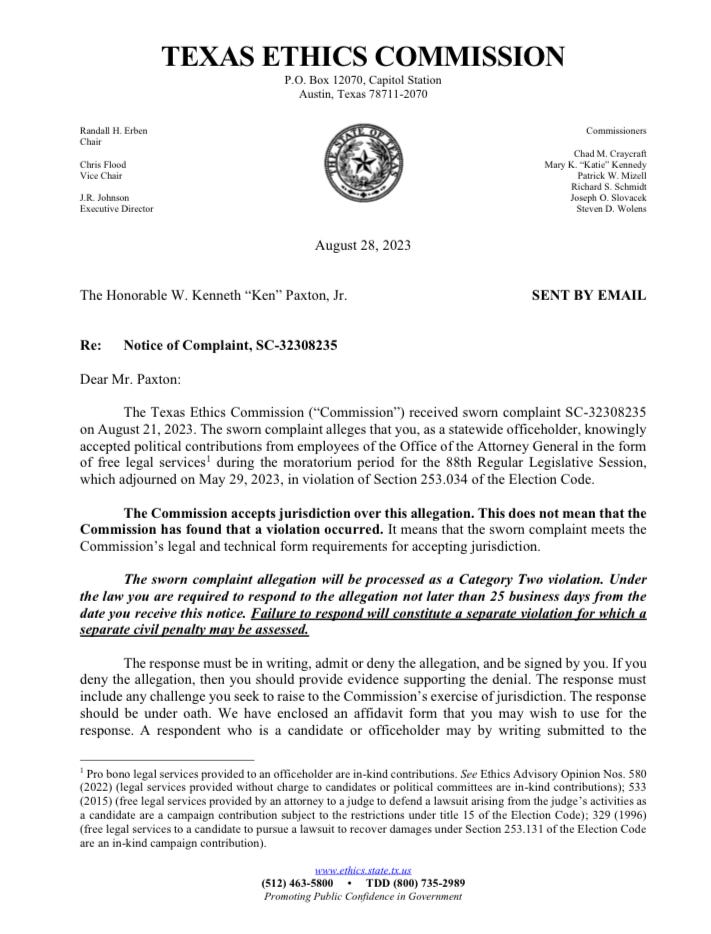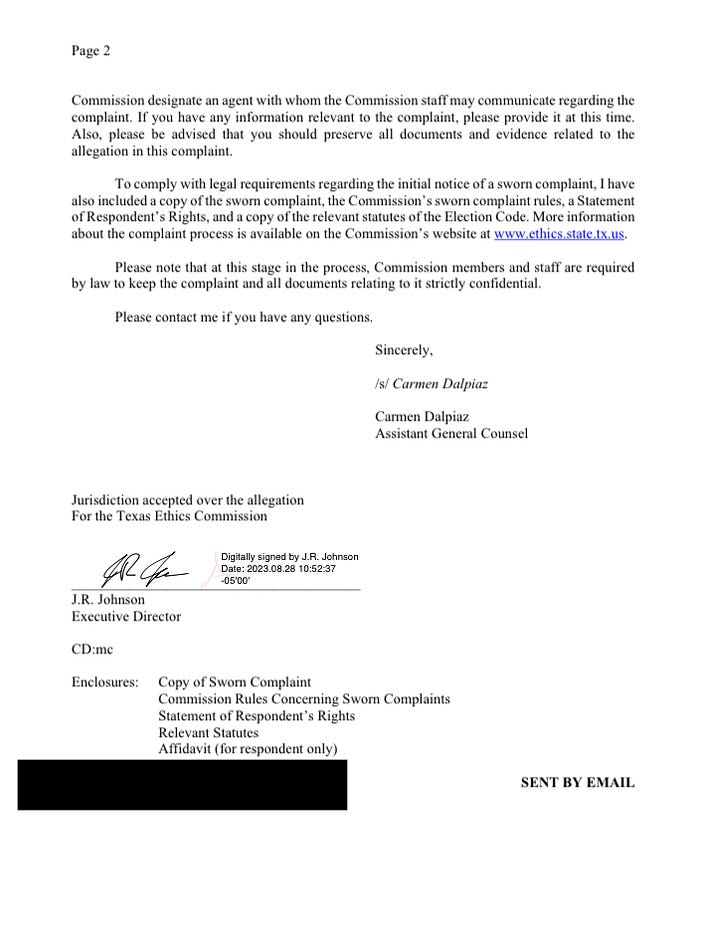 Letter to Ken Paxton From Texas Ethics Commission
"The sworn complaint alleges that you, as a statewide officeholder, knowingly accepted political contributions from employees of the Office of the Attorney General in the form of free legal services' during the moratorium period for the 88th Regular Legislative Session, which adjourned on May 29, 2023, in violation of Section 253.034 of the Election Code," wrote Dalpiaz.
The letter also notes that "Pro bono legal services provided to an officeholder are in-kind contributions" and cites three Ethics Advisory Opinions issued by the Commission. As a statewide officeholder, Paxton was prohibited from accepting political contributions during the time period between December 10, 2022, and June 19, 2023.
Last week, WFAA-TV reported that six attorneys and an executive assistant who were granted temporary leave from the Office of the Attorney General to assist Paxton in his impeachment defense have been paid nearly $120,000 in accrued state leave since stepping away from their state jobs to help with Paxton's defense.
The attorneys from Paxton's office who were granted leave formed the law firm of Stone Hilton PLLC on May 31, 2023, nearly three weeks before the expiration of the contribution moratorium.
Paxton's most recent campaign finance reports do not reflect payments to any of the law firms known to be assisting with his impeachment defense, nor do they reflect in-kind contributions for the payment of legal fees.